Turkey detains rights activists including local Amnesty chief
Comments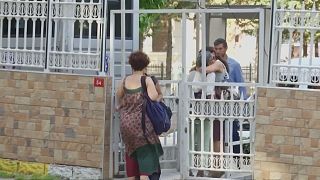 Turkish police have detained 10 people including the local director of Amnesty International, in a raid the NGO called a "grotesque abuse of power". No reason was given for the arrests.
Amnesty Turkey Director Idil Eser was attending a meeting south of Istanbul when he and other human rights activists were taken to police stations across the city on Wednesday evening (July 5), their lawyers say.
"They decided to detain them and to ban lawyers' visits. We couldn't meet them during that time. We couldn't get any information," said Eser's lawyer Naciye Demir. "Today we learned that they extended the period of detention for another seven days. We were not told why they are detained."
The chairman of Amnesty's Turkey branch, Taner Kilic, has also been detained since last month over alleged links to the network of Muslim cleric Fethullah Gulen, whom the government blames for last year's failed coup. He remains in jail pending trial.
Growing concern
The United States is "deeply concerned" by the arrests, State Department spokeswoman Heather Nauert said in a statement.
"As with past arrests of prominent human rights defenders, journalists, academics, and activists, we underscore the importance of respecting due process and individual rights, as enshrined in the Turkish Constitution, and consistent with Turkey's own international commitments," Nauert said. "More voices, not fewer, are necessary in challenging times."
Since the failed putsch a year ago, Turkey has jailed more than 50,000 people pending trial and suspended or dismissed some 150,000, including soldiers, police, teachers and public servants, over alleged links with terrorist groups.
The purge, which also led to the closure of some 130 media outlets and jailing of 150 journalists, has alarmed Turkey's Western allies and rights groups, who say President Recep Tayyip Erdogan is using the coup to tighten his grip on power and muzzle dissent.
EU Enlargement Commissioner Johannes Hahn was in Turkey on Thursday to discuss EU accession talks. He said he had raised the matter with Turkish officials.
"(But) I didn't get a sufficient answer about it. We will continue to follow this," he told a news conference at Ankara airport.