Migrants relocated from Paris makeshift camp to temporary shelters
Comments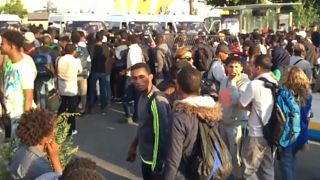 Authorities in France have begun relocating migrants from a makeshift camp in the Paris suburb of La Chapelle.
Some 2,700 migrants from Sudan, Somalia, Eritrea and Afghanistan, have been waiting for buses outside an asylum centre that is not big enough to house them.
The men will be relocated to temporary shelters in the region in the 34th such operation in the last two years.
Migrant arrivals have grown this summer as NGOs and charities continue their rescue operations in the Mediterranean.
The Paris mayor is pressing the national government for a law enshrining more robust measures to accommodate the migrant flow.