Iraqi forces retake Mosul hospital
Comments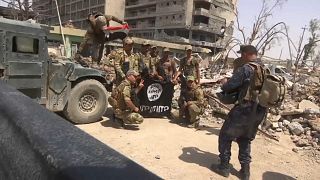 Iraqi forces continue to eradicate so-called Islamic State positions in Mosul as national politicians reach out to the population who have suffered under the militants since 2014.
Video shows Iraqi Security Forces raising flag over hospital in Mosul after retaking the building from ISIS fighters https://t.co/kFYHmdY9FCpic.twitter.com/jJiILRtKhG

—

ABC

News Politics (@ABCPolitics) July 4, 2017
The army's Rapid Response division have retaken the city's biggest hospital on the western side of Mosul.
The building has been ravaged by war, over recent weeks a number of ISIL snipers have been perched on the roof of the medical centre, formally the best in Mosul.
Battle for Mosul: Iraq forces retake hospital near Old City https://t.co/uW6RzYsvlJpic.twitter.com/goP9CyZuY4

— Middle East Eye (@MiddleEastEye) July 3, 2017
The small force held hundreds of Iraqi troops at bay for weeks.
Those militants that remain are trapped in the Old City a few hundred metres away and have vowed to fight to the death.
Iraqi forces rescue a child (mother was killed by isis during escape) he is recovering now in a local hospital. #mosul#iraq. pic.twitter.com/bGSEXGugWP

— Steven nabil (@thestevennabil) July 3, 2017
Iraqi forces began the battle to liberate Mosul in October of last year, the second largest city in Iraq was overrun by ISIL in a matter of days.