Donald Trump's CNN wrestling tweet sparks fresh outrage
Comments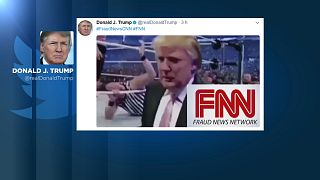 Donald Trump said on the campaign trail he would like to punch protesters, and now he has gone a step
further in his war with the media, superimposing a CNN logo on a man he once joke-wrestled with
at a sporting event.
The spectacle of the President of the United States engaging in a violent act, even if tongue-in-cheek,
has dismayed many. But what should the bullying media expect say his supporters.
"I think that no one would perceive that as a threat. I hope they don't but I do think that he's beaten up in a way
on cable platforms that he has a right to respond to. I think that importantly here he's a genuine president expressing
himself genuinely and to be honest I think that's why he was elected. He's the most genuine person and the people that
see politicians and then see him find him to be someone that they can understand and relate to," said the White House
Security and Counterterrorism Adviser Thomas Bossert.
This weekend has seen Trump redoubling his attacks on the media, but there has been no let-up in the protests against him
around the country, either.