Crisis for civilians deepens as Mosul battle nears end
Comments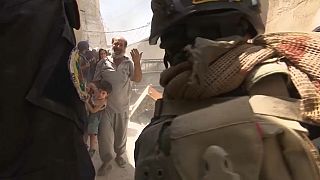 The fight for Mosul may be almost over but while many civilians run for their lives, tens of thousands more are still trapped in ISIL's last pockets of resistance.
US-backed Iraqi forces have been battling for over eight months to liberate the city. The humanitarian crisis faced by its people has only got worse.
"Clearly, when we started with the east of Mosul, we had a bit of malnutrition, we had a high level of people with trauma, they had witnessed lots of violence," explained Fred Cussigh, head of the UNHCR's office in Irbil.
"And for the west (of Mosul) it has been worse and worse. The longer they are in the crisis, the more affected people are. The malnutrition rate was twice as high than for the east, the level of trauma is spectacular."
Thousands of Mosul civilians trapped in Isis territory as Iraqi forces close in https://t.co/vL7FySfPWv

— UNHCR Iraq (@UNHCRIraq) 1 juillet 2017
The fighting has displaced some 900,000 people, about half the city's pre-war population, and killed thousands of civilians, aid organisations say.
Iraqi authorities insist they are only days away from a victory over remaining militants in Mosul.
But commanders of counter-terrorism units working their way through the narrow streets of the Old City say die-hard ISIL fighters are dug in among civilians and the fighting ahead remains challenging.
For those caught up in it, the end of the battle for Mosul can't come soon enough.
#Breaking: "The plight of these children&their survival must remain top priority now& in wks/mnths to come." UNICEF Iraq rep on #Mosul kids. pic.twitter.com/8uVdywF06Y

— UNICEF Iraq يونيسف (@UNICEFiraq) 29 juin 2017
with Reuters