Japanese airbag-maker Takata files for bankruptcy
Comments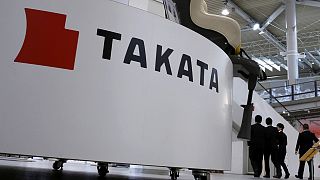 It is being described as the biggest ever bankruptcy of a Japanese manufacturer.
The airbag maker Takata is facing massive bills for costs and liabilities after the auto industry's largest ever product recall.
The company also says it is being bought by a US-based firm.
Takata has been struggling with years of recalls and lawsuits after its airbags were linked to at least 17 deaths around the world.
The company has filed for bankruptcy protection both in the US and in Tokyo.
Takata employs some 60,000 workers in more than 20 countries.