From Calais with Love: French woman faces 10 years in jail after helping migrant flee to Britain
Comments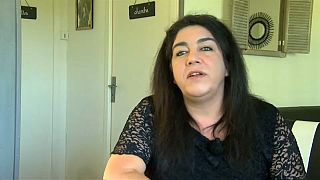 She once supported France's far-right anti immigrant National Front party.
That was before Beatrice Huret met and fell madly in love with Mokhtar, a teacher who fled Iran and ended up in Calais.
Now Huret faces up to 10 years in jail. She met Mokhtar in the French port city's Jungle migrant camp, but is now accused of people trafficking after helping him escape to Britain by crossing the English Channel in a small boat.
Speaking about her case Huret said: "For me it was not something reprehensible. I knew I shouldn't do it but I did not imagine it would lead to this. What I expect from the court is to drop the charges of 'organised crime'. This is what bothers me the most. To be put in the same boat as those who made people pay for the crossing, who profited from the refugees misery."
Huret, who has recently published her love story, says she never expects to see Mokhtar again. He is seeking asylum in the UK.
The former nursing assistant now says she devotes her time to helping migrants and the needy after admitting she once handed out leaflets for Marine Le Pen's National Front party.
A court is expected to rule on her case on Wednesday.