Yellowstone grizzlies lose endangered species protection
Comments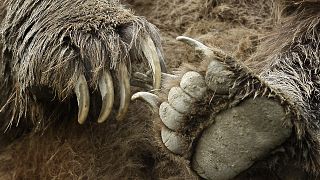 The grizzly bears of Yellowstone National Park in the United States are no longer considered an endangered species and will soon lose the federal protections they've had for over 40 years.
In 1975, when they fell under the protection of the Endangered Species Act, there were little more than a hundred of them roaming in and around the park. There are now an estimated 700 grizzlies in the area that includes northwestern Wyoming, southwestern Montana and eastern Idaho, leading the U.S. Fish and Wildlife Service to conclude that the population has recovered.
Thanks to conservation efforts the Yellowstone grizzly bear has rebounded: https://t.co/DICu68bsS2#WildlifeWinpic.twitter.com/K2ET5RF6mx

— US Dept of Interior (@Interior) June 22, 2017
Yellowstone's grizzly bears are no longer considered threatened https://t.co/FxC0Uat9Kcpic.twitter.com/qIdRzxH8re

—

TIME

(@TIME) June 23, 2017
The move will give jurisdiction over the bears to Montana, Idaho and Wyoming by late July. That will allow those states to plan limited bear hunts outside the park's boundaries as long as the overall bear population does not fall below 600 bears.
Hunting bears inside Yellowstone and nearby Grand Teton National Park would still be banned.
What's 700 pounds and no longer on the Endangered Species list? The Yellowstone grizzly bear. https://t.co/7mU3CLo3YO

— The New York Times (@nytimes) June 22, 2017
The Obama administration first proposed removing grizzlies as a threatened species in March last year.
Yet many wildlife advocates are worried about the move, and Native American tribes are staunchly opposed to hunting grizzly bears, which they consider a sacred animal.
Trump administration's decision to remove Yellowstone grizzly bear from endangered species list a "gift to hunting" https://t.co/IcwRykBJqApic.twitter.com/ddiNSIDBWv

— Newsweek (@Newsweek) June 23, 2017