When two-year-old Emad's mother took him to the Iranian parliament in Teran to request treatment for his illness, the pair found themselves caught up in a deadly terror attack in which gunmen killed 17 people.
Photos of Emad's rescue, showing him being posted out of a window by security forces, quickly circulated online and even made the printed press in Iran, bringing the young boy's cause to the public's attention.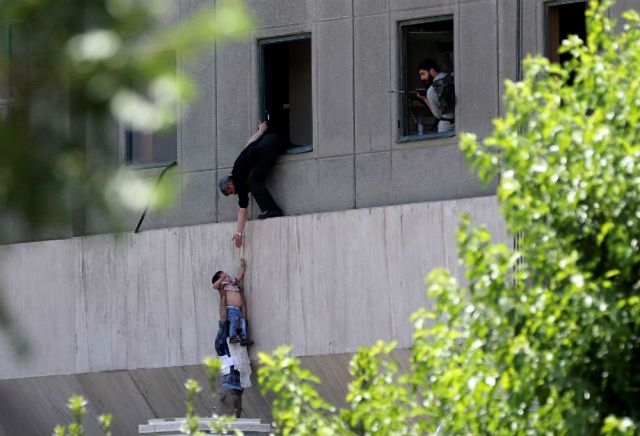 The two-year-old, who lives with his parents and two siblings in a small rented flat in Gorgan, suffers from Mucopolysaccharidoses (MPS), a rare disease caused by the body's inability to produce certain enzymes.
His family had spent all of their life savings on finding a treatment for his rare condition and, with his disabled father out of work, were struggling to get by, let alone pay for the hematopoietic stem cell transplantation he needed.
"Emad has been in surgery three times. I spent all my money and borrowed from everybody I could. I did not know what to do," his mother, Zahra Khorasani, said.
The family were advised deliver a letter to parliament and Zahra and Emad were waiting in the building's reception when suicide bombers and gunmen stormed the building shooting randomly at people inside.
Emad's mother described the chaos inside: "Everyone was fleeing and all the people wanted to find a way to rescue themselves. Some of them were rescued while some of them were shot."

The moment gunmen entered the parliament was caught on the building's CCTV.
Amongst the carnage, Zahra fled with her son and found shelter in a corridor with security forces who gave them bullet-proof vests and delivered Emad out of the window; the root of the now-famous photo.
The image became the focus of an online campaign, which saw social media users pushing for the boy's family to receive the money they needed to treat their son and raised five thousand euros in less than 24-hours.
عماد،كودك عكس مشهور اميد وهاب زاده بيماره و اونروز بخاطر بيماريش اومده مجلس با مادرش.اگر ميتونين باني خبر بشين. https://t.co/NNZHw8n5vJpic.twitter.com/tvcKsyn3fm

— Peyman Yazdani (@sosha999) June 10, 2017
A tweet with the picture of Emad and a message from his cousin urged Iranians to donate.
Such was the reach of the campaign and photo that a meeting between the family and Iran's health minister, Seyyed Hassan Qazizadeh Hashemi, was set up to discuss the two-year-old's condition.
Qazizadeh Hashemi, who Emad's father described "very friendly", ordered the state to pay for young boy's treatment, with the precision that he should be sent abroad for care if necessary.
While the public attention their son attracted has relieved pressure on the family to find money for treatment, their situation is still far from stable.
"A picture lightened half of my life burden, but the rest of problems are still there. I am unemployed and homeless," said Emad's father.