Brexit talks: UK wary of 'dangerous cliff edges'
Comments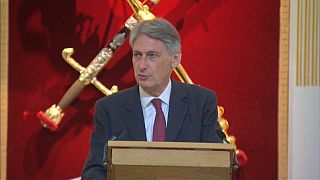 A day after Brexit negotiations officially began, Britain's finance minister says his priority will be to avoid what he calls "dangerous cliff edges".
Philip Hammond told a London audience that what is needed first is a comprehensive trade agreement and secondly transitional arrangements.
"When the British people voted last June, they did not vote to become poorer or less secure," he said.
"They did vote to leave the EU and we will leave the EU.
"But it must be done in a way that works. In a way that prioritises British jobs and underpins Britain's prosperity."
The Bank of England Governor spoke at the same meeting at Mansion House, warning that now is not the time to raise interest rates.
Mark Carney said: "In the coming months I'd like to see the extent to which weaker consumption growth is offset by other components of demand, where wages begin to firm, and more generally how the economy reacts to the prospect of tighter financial conditions. And the reality of Brexit negotiations."
The EU's chief negotiator says both sides have agreed to discuss the details of the UK's exit, before moving on to the post-Brexit relationship with the bloc.