The world's deadliest wildfires
Comments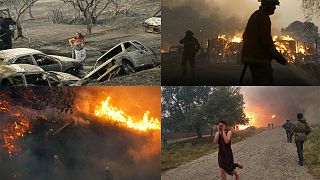 The deadly fire that struck Portugal at the weekend claimed the lives of at least 62 people and injuring dozens others. According to Portugal's Interior Minister, most of the victims were caught in their vehicles on the road. The country has declared three days of mourning.


Greece 2007
An unprecedented inferno in August 2007 ravaged more than 250,000 hectares and 77 people died. The fire affected the prefectures of Messinia, Arkadia, Ilia, Achaia, Laconia, Argolida, Corinthia, Attica and Evia, Fthiotida.
Australia 2009
The state of Victoria was the scene of a fire that killed at least 173 people. Entire towns and more than 2,000 homes were destroyed. The fire lasted several weeks before being contained.
Russia 2010
Sixty died after an unprecedented heatwave and drought from the end of July to August sparked fires. The country had experienced one of the hottest summers since 1890.
China 1987
It was called the Black Dragon Fire and was the largest to strike China in more than 300 years. More than 200 died and hundreds were injured. It destroyed more than 18 million acres of forest.
France 1949
The Landes fire burnt for four days, consuming more than 50,000 hectares. Eighty-two died when the wind turned ferociously and suddenly, rekindled the fire where it had been thought to be extinguished and trapped the men.
USA

1871

The Peshtigo Firemost, the most deadly, occurred in Wisconsin,

USA

, in October 1871. An accurate death toll has never been decided as local records were destroyed. About 1,200 people were reported missing but possibly as many as 2,000 died.