The brand new backbone of French politics
Comments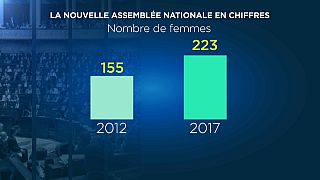 France has seen a radical shift in the way it will be governed. A new, younger National Assembly has been elected, with a record number of women.
It's out with the Socialists, for the most part – they achieved their lowest election result in its 48-year history.
The average age of those elected to France's lower house of parliament has dropped by over five years.
The number of women, meanwhile, has skyrocketed from 155 in 2012 to 223 following Sunday's second-round vote.
Those coming from management backgrounds, the self-employed, teachers and farmers all have stronger showings now, compared to the last legislative election.
One student and a blue-collar worker will also be taking a seat in the Assembly – two categories that were not represented the last time around.
The body has experienced a 75 percent about-turn; of 577 MPs, 424 are completely new to the national political scene – another record in France.