What we know about the London attack
Comments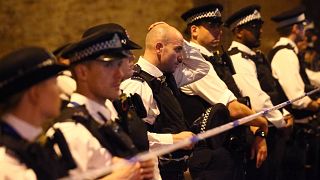 Police say they received calls of a collision in the Finsbury Park area of north London at 12.20 on Monday morning.
As a group of worshippers leave a mosque, a van drives into the crowd killing one and injuring eight.
One witness tells Sky News the driver had hit at least 10 people.
Attack is the third London incident in as many months in which a vehicle has been used to ram pedestrians.
Finsbury Park in north London is a busy transport intersection with two London Underground lines (Victoria and Piccadilly) and a mainline station. Trains are running but Seven Sisters Road, a busy route, is closed to traffic.
WHAT

WE

KNOW

ABOUT

THE

SUSPECT
Assailant was a white male in a white van
Eyewitness says there were "definitely" three people in the van".
Police spokesman says attacker acted alone and there was "nobody else in the van".
Locals wrestle attacker to the ground.
Imam is alleged to have protected the assailant from an angry crowd.
The suspect is arrested by police.
Police at first describe it as a major incident before reclassifying it as terrorism.
Senior member of Muslim Council tells Sky News that assailant is alleged to have said goaded onlookers saying "I did my bit".


This was an attack on Muslims near their place of worship and, like all terrorism in whatever form it takes, it shares the same goal. It seeks to drive us apart and to break the precious bonds of solidarity and citizenship that we share in this country. We will not let this happen. – Theresa May
London Mayor Sadiq Khan says the incident is an attack on "all our shared values of tolerance, freedom and respect".
Jeremy Corbyn, Labour Party leader said: "I am shocked by this horrific and cruel attack in Finsbury Park, which is being treated as an act of terror."
The Muslim Council of Great Britain says attacker was motivated by Islamophobia.
Amber Rudd, the Home Secretary, said: "My thoughts are with all those affected by the appalling incident at Finsbury Park. We must all continue to stand together, resolute, against all those who try to divide us and spread hate and fear."
I am shocked by this horrific and cruel attack in Finsbury Park, which is being treated as an act of terror. pic.twitter.com/fipwZJ1eBZ

— Jeremy Corbyn (@jeremycorbyn) June 19, 2017
It opened in 1995 and the ceremony was attended by Prince Charles.
The al-Qaeda operative known as the Shoe Bomber Richard Reid, who tried to blow up an American Airlines plane and Zacarias Moussaoui, who conspired to take part in the September 11 attacks in New York, attended the mosque.
Egyptian cleric Abu Hamza al-Masri, who preached Islamic Fundamentalism, was the imam of the mosque from 1997.
Mosque was raided by police in 2003 and shut down.