Ukraine: Kyiv celebrates gay pride
Comments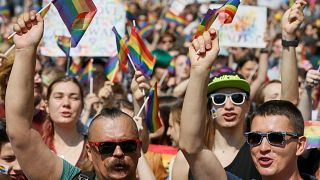 Ukrainian politicians and foreign diplomats joined thousands marching for gay pride in the Ukrainian capital Kyiv on Sunday (June 18).
The country has increased its support for gay rights since a pro-Western government took power three years ago.
"I want our beloved Ukraine to finally overcome the barrier, and society to become tolerant," said participant Gina Evgeniy Smile.
The parade was flanked by thousands of helmeted police. It has previously been targeted by ultra-nationalists. About 200 people protested, many calling the event an affront to traditional values.
"God punishes for the the sins of Sodom with damnation," said Pastor Kostyantyn. Ukraine has already witnessed enough damnation and what we are doing is adding yet one more or even more than that. That's why as an Orthodox priest, I share the same position as God, the same position as the holy scripture – the Bible."
Police said six people were detained for trying to breach the security cordon.
You think #Pride is risky in the U.S.? It's downright scary in #Kievhttps://t.co/pljSgAdpkS

— The Advocate (@TheAdvocateMag) June 17, 2017
A large police presence helped guard thousands of #KyivPride2017 marchers from protesters. https://t.co/zaWTCAr4tA

— Twitter Moments (@TwitterMoments) June 18, 2017
Ukrainian neo-Nazi's have issued a bizarre "family values" meme to protest against tomorrow's Kiev's Gay Pride parade pic.twitter.com/KDZXlzE3dR

— Bryan MacDonald (@27khv) June 17, 2017