Bad day for mainstream parties in French elections
Comments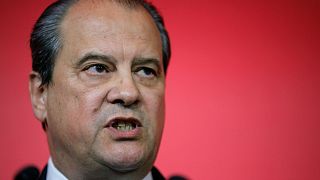 It's been a tough day for traditional mainstream parties in French politics.
In the first round of the parliamentary elections, exit polls show Les Républicains with just a fifth of the vote, at 21.5%.
Their leader, Francois Baroin, spoke to the 50% of the electorate which had abstained; and to those who'd used their vote to express anger or frustration, saying that the country needed a balance of power that wasn't concentrated in the hands of a single party.
The Front National are expected to take 14% of the vote in the first round, and predicted to win just three seats next week, but Marine Le Pen was unbowed by this result, saying:
"The Assembly needs a real opposition to counter the catastrophic policies proposed by Emmanuel Macron. We need to get away from his vandalism of labour law which will leave millions of workers without security without doing anything for business either."
Marine Le Pen's Front National seen getting 13.5% of votes

— Pierre Briançon (@pierrebri) June 11, 2017
After a feeble showing in the presidential election, the socialist party is predicted to fare only marginally better in the legislatives, with just 10.2% of the vote.
Their leader, Jean-Christophe Cambadélis, said that the first round had been marked by the unprecedented retreat of the left, and particularly of the socialist party. He appealed to voters to turn out to vote for the left in the second round and to give the socialists the chance to defend their interests.
#France: many Socialist leaders eliminated in 1st round (incl. party head Cambadelis), squeezed by Macron on their right, Melenchon on left.

— Taniel (@Taniel) June 11, 2017
Jean-Luc Melanchon is not predicted to repeat his success in the first round of the presidential election, where he polled at 19%. In these elections, his extreme-left La France Insoumise party is expected to take just 11% of the vote in the first round.
France, it seems, is stampeding to the centre ground.