Italy's vaccine sceptics to 'apply for asylum in Austria'
Comments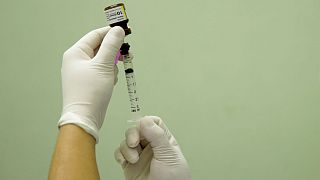 Anti-vaccine activists in Italy are so upset by the country's drive to get more children immunised they are set to apply for asylum in Austria.
The 130-family group were angered by a new government rule requiring youngsters to be vaccinated.
The vaccinations cover 12 common illnesses, including measles, rubella and chickenpox.
It has prompted the German-speaking families, based in the northern Italian region of Alto Adige, to launch a bid to live in Austria.
"Certainly we will not poison our children," anti-vaccine activist Reinhold Holzer told Italian news agency ANSA.
"Asylum is not only for those who run away from war but even for those who see themselves deprived of their human rights."
Paolo Gentiloni, Italy's prime minister, announcing the rule last month said it was introduced to tackle 'anti-scientific theories' that have lowered the country's vaccination rates.
The World Health Organisation (WHO) called on Italy to act earlier this year after a measles outbreak.
There were 1,020 cases reported in the year to January 2017, with a trebling of new infections over the new year.
WHO says just 83 percent of people have been given the second measles jab in Italy; the recommended level is 95 percent.
Europe is a world leader when it comes to lacking confidence in vaccines. One-in-five of people surveyed in Italy believed they were unsafe, compared with four in 10 in France.
North and South America was declared measles-free in September 2016. But there are fears low immunisation levels in Europe and elsewhere could threaten this achievement.
The anti-vaccine movement makes a link between the MMR (measles, mumps and rubella) jab and autism.
The claim of a link originally came in a 1998 study by Andrew Wakefield in The Lancet, but amid widespread criticism the magazine retracted the article 12 years later.