Reform or face isolation, UAE minister tells Qatar
Comments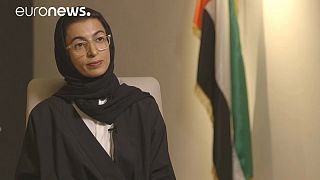 Qatar must change or face isolation, a government minister from the United Arab Emirates has told Euronews.
Noura Al Kaabi, the country's Minister of State for Federal National Council Affairs, was speaking Arab states cut diplomatic ties Qatar amid allegations it is supporting terrorism.
Qatar has denied the claims and has vowed it will not surrender over the row.
Here is the full transcript of the interview:
Euronews: "Is the Gulf Co-operation Council (GCC) on the verge of explosion? Can it be fixed back again? Can we expect further reactions?"
Noura Al Kaabi: "The great reactions or as they call it escalations with regard to the crisis with Qatar, are just accumulated for the past 20 years and there have been a lot of issues that we as a government addressed in many meetings and as well in many occasions with regards to Qatar's government policy.
"In 2014, there was a commitment from Qatar, a signed commitment, during the days of King Abdallah (of Saudi Arabia) Those commitments have stipulated conditions that were not met, promises that were not met."
Euronews: "Like what?"
Noura Al Kaabi: "Like stopping to meddle and interfere with countries in the region, in their affairs. This is one. And funding terrorist organisations, extremists, Qatar being a safe haven for extremists and Muslim Brotherhood and having a media platform that I can call a mouthpiece of radicals, people like Karadawi who is the spiritual father of the Muslim Brotherhood. He's an individual who has more blood on his hands than a suicide bomber having that mouthpiece that's undermining stability and security in the region."
Euronews: "Are Abu Dhabi and Riyadh trying to make a core of the much spoken about Islamic military alliance?"
Noura Al Kaabi: The United Arab Emirates and the leadership of Saudi Arabia, Egypt, Bahrein, we have one vision. This vision is basically to make sure that we have clear policies that guarantee the stability and the prosperity of this region. That is a common goal. We can't prosper economically, socially in the midst of such a region with what's happening around us. I believe after the Riyadh Summit there has been an agreement on which country is the country that supports terrorism, and it's Iran. The government of Qatar refused to identify that, which for us is the main issue as well, in terms of refusing that Iran is the source of terror in this region.
(…)
"Further steps against the government of Qatar, is the government of Qatar's choice. They have the choice: their choice is either to follow what conditions are there after the Riyadh Summit and the agreement in 2014 and making sure that there are actions. And also, the government of Qatar needs to gain our trust again.
Euronews: Otherwise?
Noura Al Kaabi: "Otherwise, it's Qatar's choice for it to be isolated. (…) I believe that with the recent steps in terms of isolation and in terms of economic sanctions, we want to deliver a message to the Qatari government. That message is that we've been waiting for the past 20 years and since 2014 and simply the ball that's in their court as to see if they have the vision of what is next.
"Do they have the vision of guaranteeing stability and a prosper economy and also to gain the trust of countries around them? Is this something they want to achieve in the long term goal? If that's something they want to achieve we ask them to think about their recent actions in terms of undermining the security of this region and also look within their country itself, about what will happen if the sanctions increase. I think the consequence would be something that we don't want to see, especially the Qatari people suffer from."
Euronews: Do you contemplate any military action?
Noura Al Kaabi: "No. We don't. The GCC is a very strong body for the past 36 years. We have common goals, we have a common culture, history, we are so inter-connected with each other, friends, families and other angles in terms of what we want to thrive on what we want to grow as GCC nations. For us, we tried all the possibilities, we tried everything that will help us get into one path: the path of achieving what will make us safe, secure, stronger and offering the best to our people and to the region. The mandate of the GCC is very clear, the vision is very strong.
Euronews: Can Qatar be expelled from the GCC?
Noura Al Kaabi: "It's Qatar's choice.
(…)
"We don't want to see that in the future, we don't want to see expelling a GCC country such as Qatar. We don't want to see that. That's why we repeat that there are two ways to go: the way of wisdom, the way of being transparent, the way of stopping the duplicity of its foreign policy, and another way of being isolated."