Paris Accord: the world's biggest CO2 producers
Comments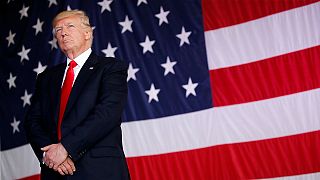 The United States is the world's second biggest producer of carbon dioxide (CO2) after China, figures show, as the world reacts to Donald Trump's decision to abandon the Paris Climate Agreement.
The US President announced this week the country would withdraw from the accord, ending what he said were "draconian financial and economic burdens the agreement imposes on our country".
World leaders, including French President Emmanuel Macron, have strongly condemned the move.
June 1, 2017
China is world's biggest producer of CO2 and has vowed to work with Europe to ensure the Paris Accord's terms are met.
According to data gathered by the NGO Germanwatch for its 2017 Climate Change Performance Index (CCPI), the US contributes 16% of the world's CO2 from energy-related emissions.
China and the US combined make up 44% of the world's emissions.
The US is now alongside Syria and Nicaragua as the only three countries not signed up to the agreement, while almost 200 others are committed to it.
Jennifer Morgan, Greenpeace International Executive Director, said: "Withdrawing from the Paris Agreement will turn America from a global climate leader into a flat earth society of one.
"It is a morally-bankrupt decision that Trump will come to regret. Global climate action is not a legal or political debate, it is an inescapable obligation to protect people and planet."