Real Madrid are the 12-time kings of Europe
Comments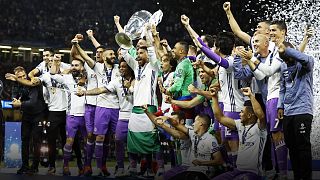 Real Madrid win the Champions League Final in Cardiff:
Real Madrid win 4 – 1 after Ronaldo scored twice, Cassmiro once and Asensio once.
Ronaldo scored an incredible 600th goal in his career.
But Juventus' Mandzukic got the goal of the match with an amazing over-the-head "bicycle" kick.
Juventus' Cuadrado, who came on as a substitute, became the third player to be sent off in a Champion League final.
---
---
Follow our live blog here: