Russia readies for business at St Petersburg economic forum
Comments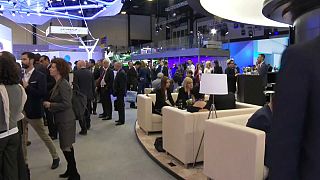 Thousands of international business leaders are gathering in St Petersburg for Russia's annual economic forum, Moscow's answer to Davos.
The aim is to exchange ideas, stimulate development and generate growth over the next three days. The Indian Prime Minister Narendra Modi is this year's guest of honour.
Euronews spoke to spoke of the delegates ahead of the gathering to hear about their expectations.
"The forum is a great opportunity for business community leaders to focus a little bit more specifically than Davos on what's happening here in Russia – the economy and social issues and alike, and how does that actually affect Russian citizens, the businesses that are trying to invest in Russia as well as the role of Russia in the global economy," explained Bob Moritz, global chairman at PWC.
Sentiments shared by Ramnik Singh Kohli, associate vice president and head of Russia and CIS region for Micromax: Russia and India have been very close partners in the areas of defence and heavy equipment and nuclear energy, etc. I would like to hear more on the consumer segment. There's very little partnership between India and Russia in the consumer segment ouur trade is under 10-billion dollars."
The forum is also a key opportunity for Russia to address its fragile recovery and ease tensions with the West.