Venezuela: and now the diplomatic stalemate
Comments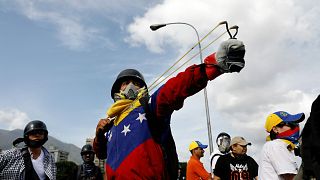 As Venezuela enters its third month of street protests against – and in support of – President Nicolas Maduro, diplomats from across the Americas are struggling to address the country's worsening democratic crisis.
Foreign ministers from the 34-nation Organization of American States gathered in Washington on Wednesday only agreed to keep talking. The ministers said they would reconvene about Venezuela before the June 19-21 General Assembly in Cancun, Mexico.
Nicaragua and Bolivia accused the bloc of meddling in Venezuela's internal affairs, while representatives from Mexico, Colombia and other countries urged the group to take action, and called on the Venezuelan government to stop its crackdown on protesters.
60 days and 60 nights of protests in Venezuela. At least 60 dead and more than 1,000 protesters in jail pic.twitter.com/PJqLLRa3be

— Hannah Dreier (@hannahdreier) May 30, 2017
Venezuelan police again clashed with demonstrators who were trying to reach the foreign ministry in Caracas on Wednesday. Protesters were trying to attempt to get to the foreign ministry, but security forces used water cannons and teargas to disperse them.
Masked youths hurled stones and Molotov cocktails in return. "It's always the same. We set off peacefully and they attack us. We have to respond; we're human beings," law student Brian Suarez, 20, told Reuters, holding a homemade wooden shield depicting a shooting target with the faces of Maduro and other officials.
Sixty people have been killed in the protests over the past two months, and another 1,100 people have been injured.
SLIDESHOW: Protesters blasted by water cannons in Venezuela https://t.co/XSfhi9w5vkpic.twitter.com/4URBbtj50x

— Yahoo News (@YahooNews) June 1, 2017
Opposition supporters in Venezuela are demanding elections amidst widespread product shortages, a flailing economy and rampant crime.
Maduro, 54, has accused his opponents of seeking his ouster with the support of the United States. In response he has called for the creation of a super-body, or constituent assembly, with powers to rewrite the constitution, in voting set for the end of July.
Two resolutions considered
At Wednesday's meeting in Washington, foreign ministers considered two draft resolutions. Both drafts called for a reduction in violence but differ in their wording on other demands for Maduro to change course.
One resolution, presented by Peru and backed by a number of countries including the United States, sought to form a four-nation group to accompany Venezuela on negotiations between the socialist government of Nicolas Maduro and the opposition.
The other resolution, backed by the Bahamas and other Caricom nations, stressed non-intervention in the crisis.
#OAS Foreign Ministers agree to continue discussions on situation in #Venezuela in search of consensus to solve the crisis pic.twitter.com/EYYTXDZfmx

—

OAS

(@OAS_official) June 1, 2017