EU-China: United on Climate Change
Comments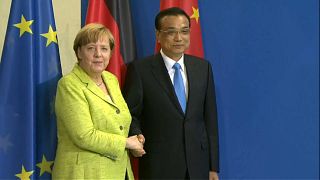 China and European leaders vigorously defended the Paris climate deal on Thursday as the world awaits President Donald Trump's decision on whether he will pull the United States out.
Chinese Prime Minister Li Keqiang signed business deals in Germany at the start of a tour of Europe. But the environment was never far away, with Beijing vowing to stick to its commitments, whatever Washington decides to do.
"In order to grow, we need sustainable, green development," Li told a news conference with Chancellor Angela Merkel in Berlin.
"That is why China, going forward, will adhere to the Paris Climate Agreement."
Chinese PM Li Keqiang meets Merkel in Berlin for talks on trade and climate issues ahead of #EUChinaSummithttps://t.co/O5QmezRt1Qpic.twitter.com/2twROawbBi

— DW | Europe (@dw_europe) 1 juin 2017
Having vented her frustration with Trump, describing unsatisfactory G7 talks, Merkel pointed to political, economic, social and cultural links between Germany and China, which have vowed to strengthen ties.
"We are living in times of global uncertainty and see that we have a responsibility to expand our partnership in all the different areas and to push for a world order based on law," she said.
The two held wide-ranging talks on issues from trade, civil rights, the North Korea crisis and, of course, climate change.
As U.S. retreats, EU and China seek climate leadership at summit https://t.co/3LQNEq5gmgpic.twitter.com/PK0UpzTsjx

— Reuters Top News (@Reuters) 1 juin 2017
After a summit in Brussels, the EU and its unlikely global partner, China, are set to issue a joint statement on Friday – reiterating that they will fully implement the Paris accord.
By then, we will know if reports are true that the White House is walking away.
with Reuters