10 Philippine soldiers die in friendly fire incident on Mindanao
Comments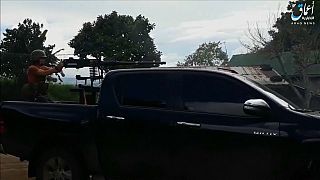 The Philippine authorities are claiming the "fog of war" led to 10 of its soldiers being killed by "friendly fire" in one of its airstrikes against Islamic militants
who have plunged the southern island of Mindanao into bloody chaos.
Government troops are engaged in street fighting in the city of Marawi, from where most of the 200,000 population has fled.
"Our mandate is to continuously eliminate and destroy the local terrorist group. Our mandate right now is to save the civilians trapped in this hostile area.,"
said Lieutenant-Colonel Jo-Ar Herrera of the 1st. infantry division.
The black flag of ISIL has been raised in various parts of the city where fighters have trapped some 2000 locals who have been unable to escape.
It is estimated the army is up against about 500 ISIL fighters, and the authorities say 89 have been killed so far. Foreign fighters from Indonesia, Malaysia, Saudi Arabia,
Yemen and Chechnya have been involved. Government losses currently stand at 39 dead.
Martial law has been imposed on the island, which has a Muslim majority in the predominantly Catholic Philippines.