French activist's video showing appalling conditions on chicken farm shocks consumers
Comments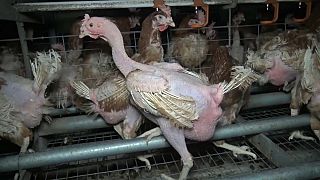 More and more people are questioning the methods used to get food on our plates, even if price remains the main factor driving sales.
However the latest pictures filmed by a French animal rights NGO, L214, are making waves in France and in the poultry industry.
The pictures reveal dead and sick chickens inside cages, eggs covered by parasites, and on a massive scale.
"We cannot say for sure if the conditions we found are unusual or widespread. In any case, we know that 68% of chickens bred in France for egg production are kept in cages. Every single time we have been able to get hold of images of cage-reared chickens we have noted the same suffering, the same problems, like depressed birds, with injuries, dead bodies, and parasites. We refuse to generalise starting from one specific case, but it's true that every time we get pictures, they tell the same story of cruelty," said L214 spokesman Alexandre Mouchel.
The farm concerned is a supplier to some of France's biggest household names, like pasta makers Lustucru and Panzani, who have moved swiftly to distance themselves from the farmer.
Lustucru published a tweet explaining the supplier had several farms and the one in the film did not supply the company with anything.
The suspicion remains that similar conditions are widespread, and not just in France.