Messi tax fraud sentence upheld
Comments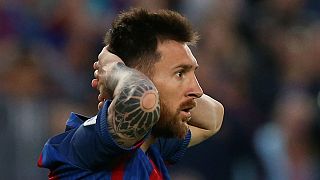 Spain's Supreme Court has rejected an appeal by footballer Lionel Messi against a 21-month prison sentence for tax fraud.
The Barcelona star was found guilty by a Catalan court last July on three counts of tax fraud between 2007 and 2009.
Messi and his father Jorge, who manages his financial affairs, were both convicted of a tax fraud of 4.1 million euros.
Jorge Messi's jail term was reduced because he has paid back some of the money owed.
In Spain, prison terms of under two years can be served on probation.