Flynn 'pleads fifth' in Senate's 'Russian meddling' probe
Comments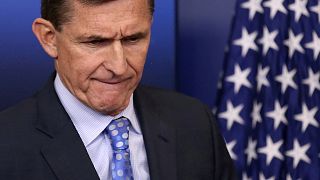 Sacked White House national security advisor, Michael Flyyn has refused to hand over files to the Senate Intelligence Committee. The panel is investigating alleged Russian interference in the 2016 US election.
Flynn stood down in February after it emerged he lied about his contacts with the Russian ambassador.
Flynn has invoked the fifth amendment to the US constitution which protects Americans from being legally compelled to testify against themselves in a criminal case.
The Senate committee issued a subpoena two weeks ago to obtain documents about his contacts with Russians dating back to June 2015.
He is considered a key witness in the Russian political meddling allegations.
US intelligence agencies concluded in January that Moscow tried to sway the November vote in Trump's favour. Russia has denied involvement, and Trump denies any collusion between his campaign and Russia.
The Senate has reacted by declaring its disappointment in Flynn's refusal to cooperate. His lawyers have stressed it is not an admission of wrong doing.
It is perfectly legitimate to ask why someone would take the fifth if they are not guilty – just ask Sean Spicer and Michael Flynn: pic.twitter.com/3dAWMKId16

— A Once Great Nation (@USARedOrchestra) May 22, 2017