UK Prime Minister defends social care plan
Comments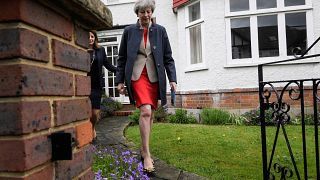 UK Prime Minister, Theresa May, has rushed to defend the controversial social care plan contained in her party's election manifesto.
"You will always have something to pass on to your family."

UK Prime Minister
What is all the fuss about?
The Conservative party's lead in the opinion polls was cut in half after the unveiling of its proposal to make elderly people with assets of more than 115,000 euros (£100,000), including their home, pay for their own social care at home.
Currently anyone with assets worth more than 27,000 euros (£23,250) is expected to pay the full cost of their residential care and the value of their home can be taken into account. However, this does not apply to people who are cared for at home.
Clarification or U-turn?
Responding to the backlash, May said that an as-yet unspecified "absolute limit" would be set on the amount that people had to pay. She described this as a "clarification", though her opponents called it a "U-turn".
Speaking in Wrexham, Wales, where the Conservative party has experienced a surge in popularity since the Brexit vote, Theresa May said: "we will make sure nobody has to sell their family home to pay for care. We will make sure there's an absolute limit on what people need to pay. And you will never have to go below 100,000 pounds of your savings, so you will always have something to pass on to your family."
I want to put an end to Jeremy Corbyn's fake claims: my manifesto is honest about our challenges and will strengthen the social care system. pic.twitter.com/DxCXKBBa1P

— Theresa May (@theresa_may) May 22, 2017
"Dementia tax"?
The Labour party has dubbed the proposals the "dementia tax", pointing out that an Alzheimer sufferer would be less able to pass on their wealth to their children than someone with cancer, which is treatable under the UK's National Health Service.
You can't trust a word Theresa_May</a> says. This is a government in chaos and confusion. <a href="https://t.co/STZR7Rbr3R">https://t.co/STZR7Rbr3R</a></p>&mdash; Jeremy Corbyn (jeremycorbyn) May 22, 2017
Labour leader, Jeremy Corbyn, said that his party would immediately spend an additional 2.3 billion euros on social care to ensure that a million "frail and vulnerable" people "in desperate need get the care they deserve".
Labour's spending proposals have been criticised for not having a sufficiently reliable funding stream.
Brexit looms large
See here for an analysis of political party proposals on Brexit.