Eurozone consumer sentiment continues to improve
Comments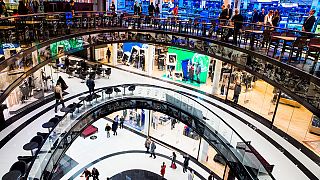 Consumer confidence in the 19 countries that make up the eurozone rose less than expected in May according to a preliminary estimate by the European Commission.
It reached minus 3.3 in May from minus 3.6 in April.
That means it was up for the third straight month and reached its highest level in nearly a decade, July 2007 to be precise, before the financial crisis slammed consumer confidence badly.
Eurozone consumer confidence has hit a decade high this month https://t.co/CHP4R7IfYmpic.twitter.com/KVLCf4no4L

— Financial Times (@FinancialTimes) May 19, 2017
It is the latest sign the eurozone is recovering from its prolonged debt crisis and follows confirmation that employment is picking up in the region, with the jobless rate falling to 9.5 percent, the lowest since 2009.
Inflation is also rising which indicates growth, though that will likely squeeze purchasing power.
May rise in #Eurozone#consumer confidence is small, but is 8th rise in 9 months & enough to take it to best level since July 2007

— Howard Archer (@HowardArcherUK) May 19, 2017
In the 28 countries of the wider European Union consumer confidence also edged up in May. It rose 0.1 point to minus 3.3.