New French cabinet holds first meeting
Comments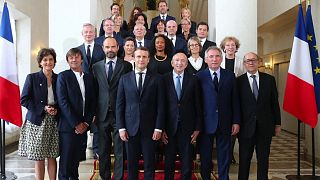 France's new cabinet held it's first meeting on Thursday, at the Elysee Palace in Paris.
Thirty-nine year old President Emmanuel Macron named the cabinet on Wednesday- and true to his word, half are women.
The cabinet is also split politically, with ministers from all sides of the spectrum.
But some have doubted this approach, fearing a return to the centrist politics of the past
Head of Pollingvox, Jerome Sainte-Marie said: "on foreign policy, I think that the risk for Emmanuel Macron that he may look like a new Tony Blair. Which means in the eyes of the French people, seeming too close to the interests and the outlook of the Anglo-Saxons, especially the Americans, and a lot of French people are very wary about the the idea of fighting with the Russians".
But Macron's attempts to position himself at the centre of the political spectrum have remained popular since his electoral victory. One poll shows increasing support ahead of June's legislative elections.
Prime Minister Edouard Philippe says the position is one of 'progress' and unity.