Which EU state is the world's heaviest-drinking country?
Comments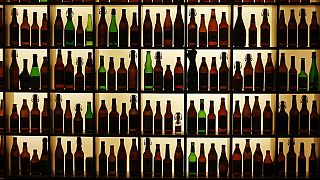 Lithuanians are the world's heaviest drinkers and their boozing is showing no signs of slowing, new data reveals.
They knocked back, on average, the equivalent of 18.2 litres of pure alcohol per person in 2016, up from 14.9 litres more than a decade ago, according to latest figures from the World Health Organisation (WHO).
That is the same as 910 large beers (500ml) or medium glasses of wine (152ml) over the year, or two-and-a-half a day.
But the country bucks a general European trend of falling consumption, as governments have targeted pricing, availability and marketing of alcoholic drinks.
How drinking levels compare across Europe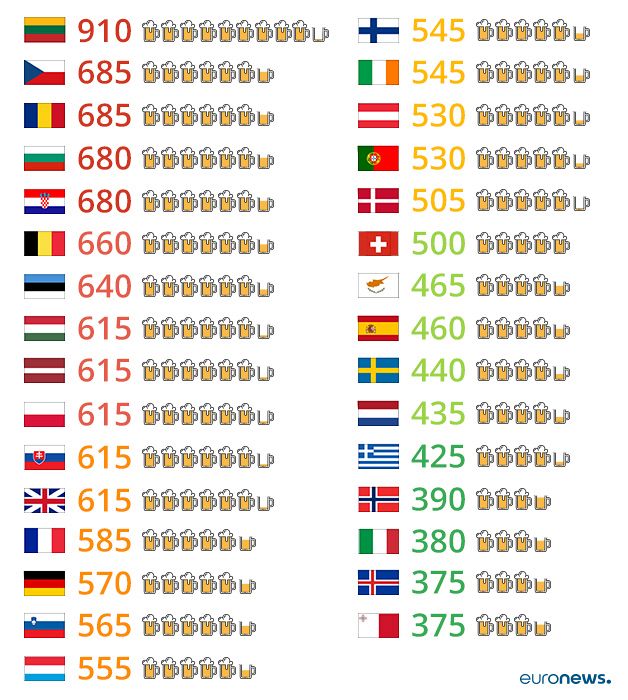 This shows countries' per person alcohol consumption in 2016, if all drinking were large glasses of beer (500ml).
Lithuanians drank the equivalent of 910 large beers.
One beer glass represents 100 large beers.
Lithuania's alcohol problem
Lithuania's drink issue has grown the fastest in the EU over the last decade – consumption last year was up 3.3 litres compared with a three-year average from 2003-2005.
In a bid to tackle the issue the government has banned alcohol sales at petrol stations and raised excise duties, which saw booze sales fall in 2015, according to a report by Euromonitor International.
Yet consumption levels have remained high.
"Lithuania, like neighboring countries Latvia, Estonia and Poland, belong to the Nordic countries where 90 percent of beer is drunk at home, while in Greece, Ireland, Malta, Portugal and Spain more than 60 percent of beer is drunk in bars," said a European Commission-funded report on Lithuania's drinking culture.
"One of the reason why Lithuanians use such a big amount of alcohol is that the mental
health of society is really bad: people feel unhappy and they drink alcohol as the alternative to feel better.Lithuanians, especially men, use alcohol as the way of relaxing – they believe that drinks help to forget routine."
Europe is world leader when it comes to boozing
While consumption is rising in Lithuania, it is falling in most other countries in the EU, according to WHO data.
Nevertheless, the region still drinks double that of other parts of the world, said Mariann Skar, secretary general of European Alcohol Policy Alliance, who called on the European Union to do more to ensure alcoholic drinks carry ingredient and nutritional information.
"Europe has an alcohol problem, not only because of the consumption but also because of the harm," she added. "We have high numbers of deaths from alcohol, liver cirrhosis and accidents and injuries.
"We are also a producing region. So there's probably historical reasons and religious ones too [as to why Europeans drink more] and if you go to the Nordic countries we have an old, unhealthy drink pattern."
The European region, as defined by WHO, drank 10.3 litres of pure alcohol per person in 2016, compared with south-east Asia, four litres; Africa, six litres; and the Americas, 8.2 litres.
The little-known link between alcohol and cancer
Falling consumption in many parts of Europe is down to government intervention, said Skar, who singled out France for praise in tackling the issue.
She called on the drinks industry to put the health risks associated with alcohol on bottles, so consumers can make informed decisions.
The risks include cancer. Euronews analysis shows a positive correlation between alcohol consumption levels and cancer deaths (see table).
"I think there's very low knowledge about the link," added Skar. "We've been trying to promote it and get manufacturers to put it on the labels of drinks. But it's a very unpopular message. The evidence is very clear but it's a difficult to get across."
'Booze bottles should carry nutritional information'
Skar has also called on the European Union to do more on protecting citizens from the risks of alcohol.
"We've been calling and calling for far more action. We wanted a strategy where they actually plan and take leadership and push countries and issues forward.
"There's one simple, ongoing issue: labelling. If you buy milk or orange juice, you are given an ingredient list, but the alcohol industry is exempted.
"The brewers have accepted to do it, by the end of 2017, 60 percent of beers will have this labelling.
"But the spirit and wine industry don't want to do it.
"The European Commission suggested the labelling but the parliament and member states rejected it in 2011. Then the commission should have delivered a report in 2014, that arrived now in 2017 and the commission gives the industry one year to do it voluntarily. We say self-regulation doesn't work but I hope the industry proves me wrong."
Listen to the full interview with Mariann Skar
Your view
What do you make of alcohol consumption levels in Europe? Do you have a story to tell about alcohol? E-mail: chris.harris@euronews.com
Alcohol consumption and cancer deaths in Europe