Flows of major weapons 'highest since Cold War'
Comments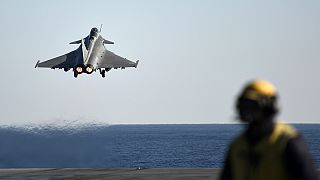 The import and export of major weapons is at its highest global level since the end of the Cold War, a new report has claimed.
Transfers of major arms – which include missiles, warplanes, submarines and air defence systems – were at their highest volume last year since 1990, according to the Stockholm International Peace Research Institute (SIPRI).
The weapons watchdog said the growth had been driven by increased demand in the Middle East and Asia.
Saudi Arabia and the United Arab Emirates, who have both been involved in the Yemen conflict, were among the world's biggest importers of major weapons between 2012-2016.
Inflows to India accounted for 13 percent of the world's arms imports, a rise of 43 percent compared to 2007-2011.
China, although still a major importer, has decreased inflows over recent years as it has improved its domestic arms output.
As a result, it has also become more of an arms exporter, supplying weapons to Algeria, Pakistan and Bangladesh, among others.
But its share of global exports pales in comparison with the USA and Russia, which account for 33 percent and 23 percent of the market respectively.
The UK remained the biggest importer of major weapons in Europe in the 2012-2016 period, despite its inflows decreasing by 22 percent compared with the previous five year period.
This decrease reflects a general trend in Europe: major arms imports into the continent dropped by 36 percent over the same period, partly fuelled by economic pressures that saw the likes of Greece and Spain cutting their inflows.