US accuses Syria of mass murder at prison dubbed 'human slaughterhouse'
Comments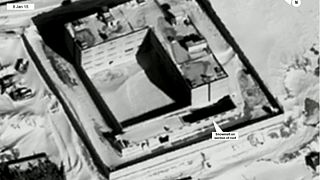 The US has accused the Syrian government of murdering inmates on mass at a military prison.
Satellite images released by the state department purport to show a crematorium constructed to dispose of the remains of thousands of dead prisoners.
Rights groups say that large scale torture and mass hangings have taken place at the Saydnaya facility outside Damascus since the start of the civil war.
Collection of 13 satellite images from TerraServer</a> showing building US claims houses a crematorium at <a href="https://twitter.com/hashtag/Saydnaya?src=hash">#Saydnaya</a> prison. 08/2011 - 11/2016 <a href="https://t.co/P7kKSLMjdn">pic.twitter.com/P7kKSLMjdn</a></p>— Jake Godin (JakeGodin) May 15, 2017
US Acting Assistant Secretary for Near Eastern Affairs James Stuart said: "The regime holds as many as 70 prisoners in Saydnaya in cells that have a 5 person capacity. And according to multiple sources, the regime is responsible for killing as many as 50 detainees per day at Saydnaya."
He went on to say that the US has "stated many times that we are a appalled by the atrocities that have been carried out by the Syrian regime", and that "these atrocities have been carried out seemingly with the unconditional support from Russia and Iran".
"Although the regime's many atrocities are well documented, we believe that the building of a crematorium is an effort to cover up the extent of mass murders taking place in Saydnaya prison," he continued.
Syria did not immediately respond to the claims, but has in the past strongly denied any abuse at the facility.
The bloody civil war that has been raging in the country for six years has seen thousands of citizens taken prisoner.
In February an Amnesty international report detailed abysmal conditions for convicts.
It described a so called "human slaughterhouse" at Saydnaya,where a secret campaign of extermination had claimed as many as 13,000 lives since the outbreak of war.