Outrage swells over FBI chief's sacking
Comments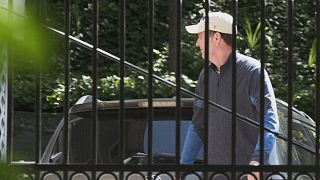 Former FBI Director James Comey had asked for more resources for an investigation into possible collusion between Russia and the Trump 2016 campaign just days before he was fired, according to several US media including The New York Times and The Washington Post.
A Justice Department spokeswoman called the reports "totally false."
Democrats have since ramped up accusations that President Donald Trump sacked Comey to undermine the FBI investigation into alleged Russian meddling, with some labeling it an attempt to cover up wrongdoing.
Comey was officially dismissed for his handling of a probe into Hillary Clinton's emails that dogged her own presidential campaign last year. Back then, Trump had praised Comey's "guts", saying he was doing "the right thing" investigating his Democratic rival. Now the president is sounding very different.
During a meeting with former Secretary of State Henry Kissinger in the White House Oval Office on Wednesday, Trump told reporters he fired Comey "because he wasn't doing a good job, very simply."
"It took guts for Director Comey to make the move that he made."

So I fired him for that move.https://t.co/EjGLeyeLvL

— Justin Wolfers (@JustinWolfers) May 9, 2017
Comey was doing a good job when he investigated Hillary, bad job when he investigates Trump. Got that? #ComeyFiringhttps://t.co/1ROyShcTcW

— Ahmed Bedier (@bedier) May 10, 2017
Though many Democrats have criticised Comey's management of the Clinton probe, they said they were troubled by the timing of his dismissal, given Trump could have acted much sooner after taking office.
Some compared the move to the "Saturday Night Massacre" of 1973, in which President Richard Nixon fired an independent special prosecutor investigating the Watergate scandal.
White House officials told Reuters Trump's anger at Comey had been building for months but a turning point came when the FBI chief refused to preview for top Trump aides his planned testimony to a May 3 Senate hearing on the Clinton email issue – something Trump and his aides took as an act of insubordination.
Trump had been considering letting Comey go "since the day he was elected" in November, White House spokeswoman Sarah Huckabee Sanders said. She referred to what she called Comey's "atrocities in circumventing the chain of command" at the Justice Department.
The White House deputy press secretary just said Comey committed "atrocities." Atrocities. pic.twitter.com/mVGnavpz49

— Bradd Jaffy (@BraddJaffy) May 10, 2017
Protest outside the White House
Hundreds gathered outside the White House to protest Comey's dismissal. They find it suspicious and want an independent prosecutor to look into the allegations of Russian meddling. The White House has rejected the calls.
"The G.O.P. (Republican party) really need to start putting their country over their party in order to reveal the truth to the American people because we deserve to know if our president was elected due to foreign influence from Russia," said protester Cami Bissen.
PHOTOS: Hundreds gather at White House to protest Trump's firing of Comey https://t.co/It4c1dw8IVpic.twitter.com/jWB95it7Y5

— Yahoo News (@YahooNews) May 10, 2017
Seen outside the White House at a protest seeking an independent probe into Trump/Rusia ties after the #ComeyFiring. Picture by Jim Watson pic.twitter.com/aMmcrTmIWf

— David Vujanovic (@DavidVujanovic) May 10, 2017
Paul Ryan, the Republican leader of the House of Representatives, told Fox News it was "entirely within the president's role and authority" to remove Comey and that a special prosecutor was unnecessary.
Senate Majority Leader Mitch McConnell accused Democrats of "complaining about the removal of an FBI director who they themselves repeatedly and sharply criticised" and said a special prosecutor would impede existing probes like one under way in the Senate Intelligence Committee.
The turmoil could rock Capitol Hill until next week: The former FBI chief has been invited to testify before the Senate Intelligence Committee on Tuesday (May 16).
"Humiliating" suggestions
U.S. intelligence agencies concluded in a January report that Russian President Vladimir Putin had ordered an effort to disrupt the 2016 election that included hacking into Democratic Party emails and leaking them, with the aim of helping Trump.
Both the Trump administration and Russia have repeatedly denied any collusion.
Comey's ouster came as Russian Foreign Minister Sergei Lavrov was in Washington for high-level meetings, including one with Trump at the White House – the highest-level contact between Trump and the Russian government since he took office.
Lavrov said it was "humiliating" for Americans to hear claims that Russia controls the political situation in their country.
The FBI director is the latest in a string of dismissals by POTUS</a> Trump, some deeply tied in to the Russia scandal<a href="https://t.co/esz66ig30K">https://t.co/esz66ig30K</a> <a href="https://t.co/slymkvPitq">pic.twitter.com/slymkvPitq</a></p>— BBC News (World) (BBCWorld) May 10, 2017