Teflon Trump can do no wrong in supporters eyes says euronews' Washington correspondent
Comments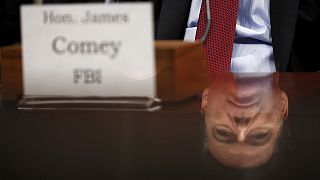 Another day, another Trump shockwave. Joining euronews' Head of the English language service Nial O'Reilly now with his assessment of the US President's removal of the FBI chief James Comey is our Washington correspondent Stefan Grobe.
Stefan, this is a hugely controversial move. Is it being seen as a sign of Trump feeling the heat over the Russia probe, or evidence of how strong he feels his position is?
Stefan Grobe, euronews' Washington correspondent:
"It is very controversial and at this point I would say it's both. Trump certainly does feel strong enough to fire Comey but whether it will help him on the Russian front that's a different matter. The optics of this firing are almost too reckless to be true and if Trump hoped that it would save him from a political backlash among Democrats he's terribly mistaken.
Trump is politicising the law enforcement apparatus because the law enforcement apparatus is investigating Trump and that's the big issue here. So I think there are three questions here; why was Comey fired and why now? The second question is what impact will it have on the Russia investigation of the FBI? And three, what will come next, what will be the political fallout? Who will be Comey's successor? It will certainly be someone who will be strongly vetted not only by Democrats but by Republicans in Congress."
Nial O'Reilly:
"Well that's the reaction among the political establishment but… no matter what he does it doesn't seem to shake the faith of the supporters that he has, his support has never really shrunk. Of course he didn't win the popular vote but those who do support him really stick with him through thick and thin, do they not?"
Stefan Grobe:
"That's absolutely true. There was a poll that came out recently according to which 96 percent of Trump supporters would vote for him again tomorrow if there were an election. Look, Trump supporters never wavered. They elected him because of his style, his brand, his brashness, and the promise that he would shake things up in Washington. And policy-wise they don't really care. Trump made so many controversial decisions, you know, jumping back and forward, reversing himself on so many issues, his core supporters never wavered, and this will certainly happen in this case. The firing of the FBI director is not a bread and butter issue for ordinary folks and certainly not for blue collar Trump voters."