'Party divisions' as far-right Marechal-Le Pen says she's quitting politics
Comments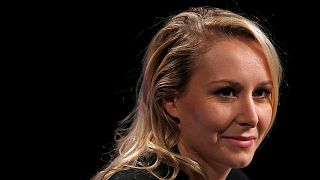 Marion Marechal-Le Pen – niece of Marine, who lost out in the race to become France's next president – is to quit politics.
Socialist party is dead

Former French Prime Minister
The 27-year-old is one of the best-known figures within the National Front and is one of its only two lawmakers.
Marechal-Le Pen has cited personal reasons for leaving but for many it lays bare divisions between the traditional far-right and the more modernising stance of Marine Le Pen.
Marion Maréchal-Le Pen was widely tipped to succeed Marine Le Pen as National Front leader https://t.co/2julpRfvwv

— Daily Mail Online (@MailOnline) May 9, 2017
Meanwhile former French Socialist prime minister Manuel Valls has said he wants to stand for President-elect Emmanuel Macron's political movement in next month's parliamentary elections.
Manuel Valls #EnMarche#cartoonpic.twitter.com/hIVHCQYSzB

— Ray Clid ✎ (@rayclid) May 9, 2017
Valls who declared in a radio interview "the Socialist Party is dead" is Macron's first high-profile defection.
But the Socialist Party itself has other ideas and called a meeting to establish its future strategy and intends to contest all 577 parliamentary seats.
Socialist Party spokesman Jean-Christophe Cambadelis: "We don't think that a unique political group is enough to fight the fragmentation we see in our country. We think modernity and the capacity to excel is to reflect and work together."
Macron may hesitate over giving jobs to traditional party members, feeling the people want something fresh. He already has someone in mind for PM but refuses to name names before Sunday's handover of power.