United Airlines: Owners of giant dead rabbit suspect foul play
Comments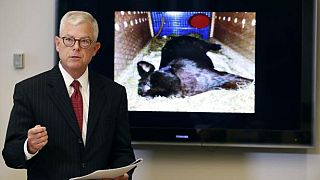 The owners of the giant rabbit who died in mysterious circumstances on a United Airlines flight last month are seeking damages.
Simon, the big bunny, was the son of the world's largest rabbit, a 1.3m-long, continental rabbit called Darius.
At the time of his death Simon's previous owner, seasoned rabbit exporter Annette Edwards told a UK newspaper:
"Simon had a vet's check-up three hours before the flight and was fit as a fiddle.
"Something very strange has happened and I want to know what. I've sent rabbits all around the world and nothing like this has happened before."
Simon's new owners thought he was destined for greatness. They had hoped he would win the title of "world's largest rabbit" at the Iowa State Fair this summer.
Their attorney, like Ms Edwards, seems to suspect foul play. He reportedly said the rabbit may have died after being placed in a freezer for 16 hours after landing in Chicago. He also said the airline destroyed Simon's remains without permission.
"United Airlines can issue any statement they like but their company's credibility is under question when they immediately cremate the giant rabbit Simon without anyone's consent," said Guy Cook, lead attorney for the three-person investment group that owned the rabbit. "They destroyed the proof."
United Airlines spokesman Charles Hobart denied Simon died in a freezer. In a written statement, he said the company was reviewing a letter outlining the claims; was saddened by Simon's death and takes its responsibilities for transporting pets seriously. The statement did not say how much the owners were seeking in damages.
Hobart insisted that Simon was seen moving around 35 minutes after his arrival at Chicago O'Hare International Airport. "Shortly thereafter, a kennel representative noticed Simon was motionless and that he had passed away," Hobart said. He did not address the unauthorised cremation allegations.
Guy Cook said that establishing the cause of death would be difficult given that the remains were destroyed but he has requested all evidence pertaining to the rabbit's death including CCTV footage.
Cook will be seeking economic and punitive damages for his client.