Le Pen supporters take heart despite defeat
Comments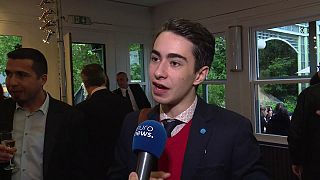 She may have lost but Marine Le Pen's supporters quickly rallied, determined to take something positive from the election.
For most it was the fact that their candidate had scored a record result for a far-right party
"Thirty-four percent! If you think about what this means. It's double what we did in 2002 – at 18%. This is major progress. Ok it's not 40% but we'll get there in 2022 ".
"We have passed the cap of ten million votes, we have made progress, OK today we lost a battle but we have not lost the war."
Mon allocution de ce soir, à l'issue du second tour de l'élection présidentielle :#Présidentielle2017pic.twitter.com/8IzVXOTzSe

— Marine Le Pen (@MLP_officiel) May 7, 2017
"The people are always afraid of the Front National. They are afraid of the name Le Pen. They have not understood that we are not bad, we are the voice of the people."
One American supporter was asked if she'd like to have seen Le Pen do what Donald Trump did in the US 2016 elections.
"I think no one can do the same as as Donald Trump. There is only one Donald Trump … he's a one-off."
Macron supporter tells TerryMoran</a> that Marine Le Pen was "the French Trump," and she&#39;d hoped France would not make "the same mistake." <a href="https://t.co/1WpLKK9oiK">pic.twitter.com/1WpLKK9oiK</a></p>&mdash; ABC News Politics (ABCPolitics) May 7, 2017
As a party the Front National wants to see itself as France's main opposition. Euronews reporter Olivier Peguy said:
"This presidential election has marked a turnaround in the French political landscape. Marine Le Pen speaks of a restructuring of political life, but it remains to be seen how this will manifest itself at the ballot box during the legislative elections in June."