Trump to visit Middle East in first foreign trip
Comments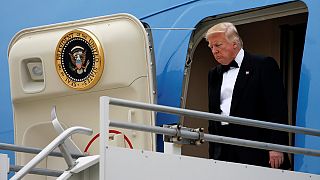 US President Donald Trump has announced his first foreign trip, on the same day that he signed an executive order, making it easier for churches to dabble in politics.
It lifts the risk of religious groups losing their tax-exempt status, if they advocate for particular candidates.
The order comes ahead of visits to Saudi Arabia and Israel this month.
"These visits will take place ahead of the NATO G-7 meetings and will begin with a truly historic gathering in Saudi Arabia with leaders from all across the Muslim world," said Trump.
"And it is there that we will begin to construct a new foundation of cooperation and support with our Muslim allies to combat extremism terrorism and violence."
His words came as Saudi Arabia revealed that the Trump administration was moving to advance the sale of precision-guided missiles.
The sale has been controversial because of civilian deaths in a civil war in neighbouring Yemen.
The munitions include armor-piercing Penetrator Warheads and precision-guided Paveway missiles.
Trump has been criticised for challenging allies in NATO and the Middle East to do more to pay for their own defence – and for immigration policies that have been cast as anti-Muslim.
In Israel, the president will discuss how he plans to broker peace between between Israel and the Palestinians, a goal that has evaded many previous administrations.