Macron extends lead on final day of campaign
Comments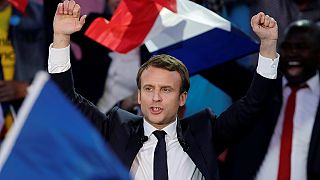 Centrist Emmanuel Macron has extended his lead in the polls on the final day of the turbulent French election campaign.
According to Elabe, he's expected to win 62% of the votes, compared to 38% for his far-right rival Marine Le Pen.
POLL: French presidential election

Macron: 62%
Le Pen: 38%

(ELABE) pic.twitter.com/qptdhgMtKY

— The Spectator Index (@spectatorindex) May 5, 2017
The election is seen as the most important in France for decades – with the country's position in Europe at stake.
Political newcomer Macron wants closer European cooperation and a more open economy.
While the National Front's Le Pen wants to close borders and quit the Euro.
A separate poll by Odoxa predicts a quarter of the French electorate will abstain from Sunday's vote – many of them left wing voters frustrated with the choice facing them.
It would be one of the highest abstention rates for decades.