India's top court upholds death sentences for gang-rape attackers
Comments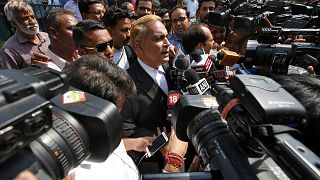 India's top court has upheld death sentences for four men convicted in the gang-rape and torture of a woman on a moving bus in New Delhi.
The fatal attack on the 23-year-old medical student, in 2012, sparked widespread protests and turned the international spotlight on violence against women.
Judges said the crime met the "rarest of the rare" standard needed to justify capital punishment.
"It is not just the award of the death penalty, but the reasoning of the court which is more important for me, because there is a detailed justification as to why in such cases (the) death penalty ought to be given," said public prosecutor Sidharth Luthra.
"I think this is an important precedent, not only for this case, but for society at large."
The four attackers were sentenced to death in 2013, while a fifth man hanged himself in prison during the original trial.
"This is not justice for the poor," said defence lawyer A.P. Singh.
"The constitution of India and the Supreme Court says justice for all. We did not get justice for all and this is not justice (death penalty)."
The attackers repeatedly raped the woman, after luring her and a male friend onto the bus. Both were beaten with a metal bar before being dumped on a road.
The woman later died in hospital. Her father says the death sentences are a victory for "each and every woman" in India.