Hardliners challenge Rouhani in Iran's presidential TV debate
Comments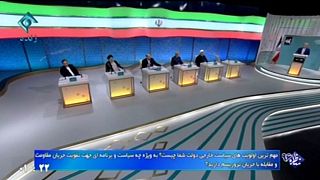 Iran has held a TV debate ahead of the presidential election which saw hardliners challenge Hassan Rouhani over the lack of economic revival since his nuclear deal was agreed with big powers.
Ebrahim Raisi, one of four sharia law judges who oversaw executions of thousands of political prisoners in the 1980s, asked Rouhani "What's changed since the deal in people's day to day lives?"
The current president was elected by a landslide in 2013 pledging to end Iran's international isolation.
In the debate which was carried live on state TV, Rouhani battled criticism that few Iranians had enjoyed any tangible benefits from the 2015 deal under which Iran curbed its disputed nuclear activity in exchange for relief from global sanctions.
He said oil exports had restarted and were sure to bring jobs and investment in the coming years.
All of the president's opponents said they accepted the nuclear pact as necessary for Iran's future – but one conservative accused Rouhani of failing to tackle unemployment.
Despite his vulnerability on the economy, analysts say Rouhani retains a strong chance of re-election as he's the only contender supported by a pro-reform camp while hardliners have failed to unite behind one candidate.