Healthcare victory for Trump in House of Representatives
Comments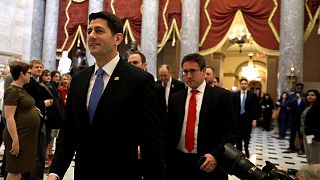 The US House of Representatives has narrowly approved legislation to repeal major portions of Obamacare and replace it with a Republican healthcare plan.
A lot of us have been waiting seven years to cast this vote

Speaker, US House of Representatives
The American Health Care Act (AHCA) will now pass to the Senate for consideration.
It represents a major victory for President Donald Trump. For him the success represents a revival of fortune from March when Republicans could not agree on the bill's measures and it failed in the House.
Republicans obtained just enough votes to push the legislation through the House, securing a margin of 217 votes for, to 213 against.
Insurance companies are fleeing ObamaCare – it is dead. Our healthcare plan will lower premiums & deductibles – and be great healthcare!

— Donald J. Trump (@realDonaldTrump) May 4, 2017
"A lot of us have been waiting seven years to cast this vote. Many of us are here because we pledged to cast this very vote," said House Speaker, Paul Ryan. The move is a personal victory for the Republican who managed to overcome party divisions on the issue.
I applaud the House passage of #AHCA. This is a victory for the American people & the 1st step toward a patient-centered #healthcare system. pic.twitter.com/i0JhPowud8

— Tom Price, M.D. (@SecPriceMD) May 4, 2017
Republicans say Obamacare drove up healthcare costs. Its replacement would repeal most Obamacare health taxes but would cut funding for Medicaid – the programme which provides insurance for the poor – and roll back much of Medicaid's expansion.
The speed with which the Republican replacement healthcare plan has been prepared has been criticised, and the bill is opposed by many in the medical profession. No Democrats voted for it.
"This is a bill that is the biggest, one of the biggest transfers of wealth from the middle class to the richest people and corporations in America. It's a tax bill, not a healthcare bill," said House minority leader Nancy Pelosi.
Think the fact that you get coverage at work means #Trumpcare won't hurt you? Think again. https://t.co/mfkOtzohU6

— PelosiPress (@PelosiPress) May 4, 2017
Immediately after the vote the president appeared in the White House garden to celebrate. He has declared Obamacare dead saying the new Republican plan will lower premiums.
But the effort to pass it into law faces potential hurdles in the Senate, where the Republicans have only a narrow majority in the 100-seat chamber.