Alonso's test drive at Indianapolis
Comments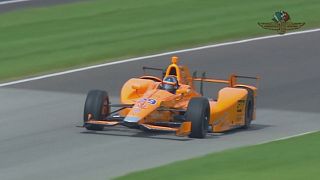 Fernando Alonso has been putting his IndyCar through its paces as he prepares for the Indianapolis 500.
Live internet coverage from the test yesterday was follow by more than 2 million people. Thanks for the continuous support. #fans#blessedpic.twitter.com/1XcciHjx1q

— Fernando Alonso (@alo_oficial) May 4, 2017
The former F1 world champion passed a rookie test at the world famous track, recording a top speed of 222.548 mph (358.156 kph).
The 35-year-old Spaniard is in pursuit of motor-racing's Triple Crown of a Formula One title and Indy 500 and Le Mans wins.
He said: "What I felt in the car it was more or less what I expect, also thanks to the simulator test we did in the last couple of weeks so I think it's quite realistic what you feel there so, more or less what I experienced today, it was expected.
"What is different now is my excitement of the race itself."
Alonso been given permission by McLaren to miss the Monaco Grand Prix to take part in the race.
The drivers will have 30 hours of practice over five days before qualification on May 20 and 21. The race is on Sunday May 28.