Trump poised to pick a fight over religious liberty vs. gay rights
Comments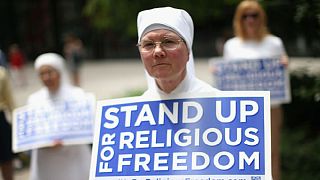 Donald Trump's supporters on the far right will likely have a reason to cheer this Thursday, America's National Day of Prayer: the US president is expected to sign a long-awaited executive order on religious liberty.
What may sound to European ears like an innocent piece of legislation is highly controversial in the United States. Trump's executive order would allow people and groups to refuse services to gays and lesbians on religious grounds.
Example: a florist or a caterer would be able to refuse their services at gay or lesbian wedding ceremonies based on their religious belief that same-sex marriages are un-Christian.
The signing of the executive order is a key victory for Vice President Mike Pence, who has advocated for the signing of a religious liberty executive order inside the White House.
Pence, a staunch social conservative from Indiana, has a long history of pushing for religious liberty policies that have been assailed by civil liberties groups and praised by conservative and evangelical leaders.
News reports of Trump's intention to sign the executive order following a leak of the draft in January sparked outrage among civil rights organizations.
On Wednesday, the Human Rights Campaign (HRC), America's largest lesbian, gay, bisexual, transgender, and queer (LGBTQ) civil rights organization, severely criticized Trump, calling the executive order a "license to discriminate".
Millions of women and LGBTQ Americans will be put at risk of discrimination, the HRC said in a statement.
According to the HRC, Trump's executive order, would allow hospitals, child welfare providers, and other taxpayer-funded entities to cite religion in denying services or discriminating against LGBTQ people and women.
"There is no religious freedom crisis in America today, but there is a crisis of hate and discrimination. At a time when two-thirds of all LGBTQ people report having experienced discrimination, Donald Trump is making the problem worse by giving legal cover to perpetrators", said Chad Griffin, president of the Human Rights Campaign.
Yet, conservatives and evangelicals have been calling on the administration to enact some sort of policy to protect the rights of individuals and organizations to act in accordance with deeply held religious beliefs on social issues like marriage, abortion, contraception, sexuality and gender without fear of government coercion and backlash.
While it's unclear what exactly Trump's religious liberty executive order will accomplish, it is likely to be the latest blow Trump has delivered to LGBTQ rights groups, which gained substantial victories under former President Barack Obama.
Trump made arguably the most direct appeal to LGBTQ Americans of any Republican nominee during the presidential campaign, promising he was a "real friend" to the LGBTQ community and vowing to protect the demographic as president.
Should Trump proceed with his religious freedom order, it will likely be challenged in court – like his executive orders on immigration.
The American Civil Liberty Union (ACLU) and another group told BuzzFeed that they will immediately sue the Trump administration if the president signs his broad executive order on religious freedom that targets LGBTQ people for discrimination.
Depending on how a final order is worded, legal groups say they are prepared to try blocking it in federal courts on constitutional grounds, thereby hoping to hand Trump another high-profile defeat like those he has faced so far with his travel bans.