US missile defence system now ready to defend South Korea
Comments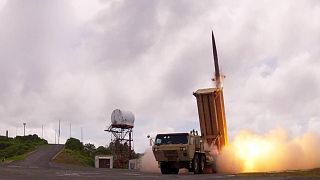 The US military says its missile defence system -known as THAAD – has reached initial operational capacity in South Korea.
It won't be fully functioning for some months but a South Korean Defence Ministry spokesman confirmed the system has early capability to respond to the nuclear and missile threat from the North.
Not everyone feels reassured however. Protests have broken out at the site where THAAD has been installed, amid fears by local residents that they'll be a target for missiles sent by North Korea.
Key player China is also unhappy, fearing the system's radar could be used to spy into its territory, despite assurances from the US that THAAD is purely defensive.
President Donald Trump's administration is looking for China to use its influence with Pyongyang to rein in its advancing nuclear and missile programmes.
US THAAD anti-missile defence now OPERATIONAL as Kim Jong-un threatens nuclear test https://t.co/siRQYIvHXLpic.twitter.com/iaVaTv4siB

— Daily Express (@Daily_Express) 2 mai 2017
Pyongyang meanwhile accused Washington of pushing the region to the brink of nuclear war after two US supersonic B-1B Lancer bombers flew training drills with the Japanese and South Korean air forces.
North Korea said the bombers conducted "a nuclear bomb dropping drill against major objects" in its territory at a time when Trump and "other US warmongers are crying out for making a preemptive nuclear strike" on the North.
"The reckless military provocation is pushing the situation on the Korean peninsula closer to the brink of nuclear war," the North's official KCNA news agency said on Tuesday.
THAAD's activation adds another layer of complexity to escalating tensions.
Trump, who has sent a US aircraft carrier strike group to waters off the Korean peninsula, has said a "major, major conflict" with North Korea is possible
He has also said, however, that he would be 'honoured' to meet North Korean leader Kim Jong-un, if the circumstances were right, having earlier described him as a 'pretty smart cookie'.
Trump tells @JenniferJJacobs@margarettalev he'd meet with Kim Jong Un under the right circumstances https://t.co/N9PedU1AnLpic.twitter.com/nfl9oRT2dU

— Bloomberg Politics (@bpolitics) 2 mai 2017
with Reuters