Many Mélenchon and Fillon voters intend to abstain
Comments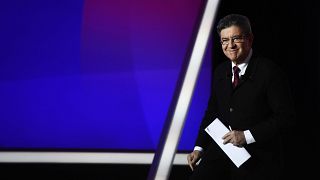 An internal poll of Jean-Luc Mélenchon's far-left supporters revealed a significant majority will choose to either abstain or cast a blank ballot in France's upcoming presidential vote, a move that could increase the likelihood of far-right candidate Marine Le Pen winning France's May 7 runoff contest.
On Tuesday Mélenchon's campaign published the results of an internal poll of supporters and found that nearly 35 percent intend to vote for centrist Emmanuel Macron.
Résultats de la consultation sur le second tour de l'élection presidentielle. #FranceInsoumisea2prl</a> <a href="https://t.co/oiOnVZF7MN">pic.twitter.com/oiOnVZF7MN</a></p>&mdash; Boris Kharlamoff (BorisKharlamoff) May 2, 2017
The poll canvased the voting intensions of 243,000 supporters, just slightly more than half of Mélenchon's France Unbowed movement.
Of that number, more than 36 percent said they would cast a blank vote and 29 percent said they would abstain.
With five days to go before millions cast their ballots on Sunday, polls project Macron will win the French election with nearly 60 percent of the vote.
For Macron to win, however, he'll need to attract at least 20 percent of Mélenchon's first-round votes.
Mélenchon said he does not expect his supporters to vote for Le Pen and said he himself will not vote for the far-right candidate.
But Le Pen has been actively seeking to mobilise the undecided voters of Mélenchon, including those of the eight former candidates, under her banner.
And polls show she has narrowed in recent days the difference with Macron whose campaign has lost some momentum.
On April 29, Le Pen chose defeated first-round candidate Nicolas Dupont-Aignan as Prime Minister in a bid to attract the fellow nationalist's voters.
Quel comportement pour les électeurs de Dupont Aignan ? 38% voteront Le Pen, 31% Macron et 31% s'abstenir selon Rolling ifop</a> <a href="https://twitter.com/ParisMatch">ParisMatch

— Bruno Jeudy (@JeudyBruno) April 28, 2017
Dupont-Aignan received 4.7 percent of votes on April 23 but 38 percent of his nearly 1.7 million voters say they intend to vote for Le Pen. As many as 31 percent say they'll vote for Macron and 31 percent say they will abstain.
And despite Le Pen's rise, says Harris Interactive's Politics and Opinion director Jean-Daniel Lévy, Macron has not seen a strong rally amongst the voters of the defeated first round candidates.
Moins de la moitié des électeurs de #Fillon ou de #Melenchon pensent voter pour EmmanuelMacron</a> >> <a href="https://t.co/q8o5QL6SQr">https://t.co/q8o5QL6SQr</a> <a href="https://twitter.com/hashtag/PolMat?src=hash">#PolMat</a> <a href="https://twitter.com/jdlevy">jdlevy

— Jean-Daniel Lévy (@jdlevy) May 2, 2017
Forty-two percent, less than half of Francois Fillon's Les Républicains voters, announced their intention to vote for Macron and 28 percent of them said they'll vote for Le Pen. As many as 30 percent intend to abstain, said Lévy.
That same poll suggests as many as 42 percent of those who voted for Mélenchon would vote for neither candidate.
The relatively high percentages of voters choosing to either abstain or cast blank ballots in Sunday's deciding vote has prompted the national secretary of Les Républicains, Fabienne Keller, to urge her party to both explicitly endorse Macron and condemn blank balloting.
Lors du Bureau politique #LR, je demanderai une clarification afin que nous appelions à voter explicitement pr #MACRON#Presidentielles2017pic.twitter.com/e5URdw97ix

— Fabienne Keller (@fabienne_keller) May 2, 2017
The senator said abstaining or casting blank ballots indirectly contributes to the electoral rise of the National Front and its possible election victory.