Macron causes Polish outrage after claiming a Kaczynski and Le Pen alliance
Comments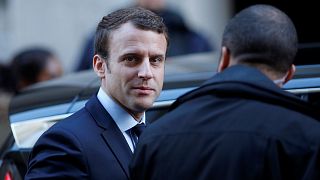 France's leading presidential candidate Emmanuel Macron has further angered Poland after suggesting Jaroslaw Kaczynski, the leader of Poland's ruling Law and Justice Party, was allied with his far-right rival Marine Le Pen.
Macron this week said Kaczynski was part of a "regime" of Le Pen political allies, including Russian President Vladimir Putin and Hungary's Prime Minister Viktor Orban, which supports the National Front candidate and opposes the European Union's democratic freedoms.
"We all know who Le Pen's allies are," Macron said, "the regimes of Orban, Kaczynski, Putin. These aren't the regimes with an open and free democracy. Every day they break many democratic freedoms."
The comment prompted Poland's Foreign Ministry to hit back at Macron on Tuesday in a growing war of words which could test the projected French President's ability to repair Paris' frayed ties with Warsaw and play a leading role in revitalising the European Union.
In a statement released on Tuesday, Poland's Foreign Ministry called Macron's comment a "manipulation", "wrong and inappropriate" and accused Macron of misleading the public through "unacceptable comparisons and mental shortcuts".
"We would also like to recall that anyone who is familiar with the history and the domestic political scene in Poland has no right to accuse Poles of sympathies for imperial Russia," read the foreign ministry's statement. "We expect that the future president of France – regardless of which candidate wins the election – will do an in-depth analysis and clarify any possible doubts in bilateral contacts before making judgements about other states' policies."
Poland's salvo comes on the heels of Macron last week telling reporters he would push for European Union sanctions against Poland for what he sees as the country's disregard for EU liberal principles.
Macron vowed he would come to a decision regarding Poland within three months of his election victory.
France will vote on Sunday May 7 in a runoff election between Macron and Le Pen in which he is projected to win the contest with nearly 60 percent of votes.
France's ties with Poland have been strained since last year's cancellation of a €3 billion Airbus military helicopter agreement.
In March, France's President Francois Hollande had also criticised Poland's right-wing ruling PiS of attempting to bloc former Polish PM Donald Tusk from a second term as the European Council President.
Last month, Macron was accused of "pure populism" by Poland's Konrad Szymanski, the deputy foreign minister in charge of European affairs.
Szymanski said Macron undermines European unity and added it was difficult to tell the difference between Macron and Le Pen's stances on the EU.
Macron had also been accused of breaking the EU's principles of friendship with Poland.
But Macron's comment this week has struck a nerve within Poland which is bristling at the suggestion its top politician is in an alliance with Russia.
Poland's PiS leader has long suspected Russia had a hand to play in the 2010 plane crash which killed former President Lech Kaczynski who was Jaroslaw Kaczynski's brother.
Despite an investigation which concluded the 2010 crash was caused by pilot error, Poland has been wary of rising Russian influence and has been the recipient of NATO troops to the country this year.
In March Poland even summoned Tusk to testify in an investigation into claims of collaboration between Polish and Russian intelligence circles.
In January Le Pen held a 90-minute meeting with Poland's Foreign Minister Witold Waszczykowski and in March met with Russian President Vladimir Putin.
Le Pen also offered to cooperate with Polish officials to help weaken the European Union, but that offer was turned down by the PiS which said it repudiated any cooperation with Le Pen.