Turkey: May Day protests turn violent
Comments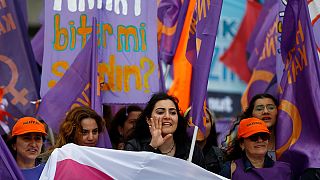 In Turkey, May Day demonstrations have turned violent after clashes broke out between police and protesters.
More than 200 anti-government activists were reportedly detained in Istanbul as they tried to reach the city's iconic Taksim Square.
The traditional focal point for past protests had been declared off-limits by the authorities.
Taksim has extra-strong symbolic resonance on the International Workers holiday. In 1977, dozens of people were either shot or trampled to death after unknown gunmen opened fire in the Square.
Tensions in Turkey have also risen since President Recep Tayyip Erdogan narrowly won a referendum last month giving him sweeping new powers.
Since then, Erdogan has conducted two further purges. Targeting the police, civil service and military, nearly 4000 people were removed from their posts over the weekend.
Since last year's failed coup, rights groups and Turkey's Western allies say Ankara has sharply curtailed freedom of speech and other basic rights.