France: weak GDP growth ahead of final election round
Comments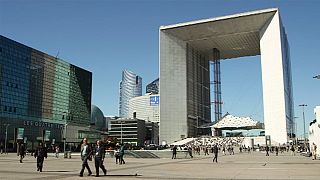 With the final round of the French presidential election looming, Friday's focus was on the country's economy which continued its anaemic growth in the first three months of the year.
We learned it expanded by just 0.3 percent, slightly weaker than expected, and down from the previous quarter's 0.5 percent.
Le PIB progresse de 0,3 % au premier trimestre 2017https://t.co/C7W8BA3aQ9

— Insee (@InseeFr) April 28, 2017
Exports dropped (-0.7 percent) while imports rose (1.5 percent) and consumer spending growth stalled (0.1 percent) but that was mostly due to lower heating bills and people spending less on clothes due to unseasonably warm weather.
France's economy loses momentum at the start of 2017, with GDP growth falling to 0.3% in the first quarter https://t.co/QbCvWWHXGNpic.twitter.com/LYY7×7dCec

— fastFT (@fastFT) April 28, 2017
Revitialising the economy is a central election theme.
Unemployment – which is stuck close to 10 percent – was the undoing of outgoing president Francois Hollande, who had pledged not to run again unless he had cut the jobless total.
Both candidates in the May 7 runoff have promised reforms to revive growth and boost employment, but with radically different approaches.
Economic factors
Overall internal demand contributed 0.4 percent to growth in the quarter
Foreign trade knocked 0.7 percentage points off growth due to weak exports, especially of Airbus aircraft
Business investment increased by 1.3 percent
Household investment, which is primarily made up of real estate purchases, remained firm
Construction sector strong, with housing starts at a nearly 4-1/2 year high
French consumer sentiment has held steady at near a 10-year high
Business confidence has been running at close to six-year records
The French government expects

GDP

growth of 1.5 percent this year after a disappointing 1.1 percent in 2016