United offers $10,000 for overbooked seats
Comments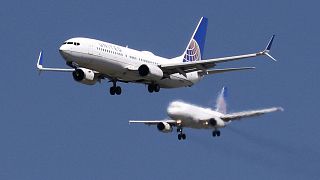 United Airlines says it will offer $10,000 to passengers who volunteer to forfeit their seats on overbooked flights.
United has also said it will take action to reduce overbooking on flights and improve customer satisfaction.
Why is the airline doing this?
It is part of an effort to restore the airline's image after a passenger was forcibly removed from his seat.
The offer comes after rival carrier Delta outlined plans to offer up to $9,950 in similar cases.
What has United said?
"Our goal is to reduce incidents of involuntary denial of boarding to as close to zero as possible and become a more customer-focused airline," the carrier said in a statement.
"It is never too late to do the right thing," Chief Executive Oscar Munoz said in a statement.
Munoz, who took the helm at United in 2015 as part of an effort to improve customer relations, has faced calls to step down after referring to Dao as "disruptive and belligerent" in a statement following the incident.
Read United Airlines CEO's full response to lawmakers on the removal of David Dao https://t.co/ylY42w328hpic.twitter.com/apfhHD1jD3

— Fortune (@FortuneMagazine) 27 avril 2017
What happened on the original flight?
Videos recorded by fellow passengers at Chicago's O'Hare airport went viral.
They showed 69-year-old passenger David Dao being pulled from bis seat aboard a United flight bound for Louisville in Kentucky.
The seat was needed for crew members.
His lawyers say during the scuffle Dao lost two front teeth, broke his nose and was left with concussion.
He plans to sue the airline.
#BREAKING: Passenger removed from United flight is Dr. David Dao of Kentucky, sources confirm to NBC News. https://t.co/FZA67AcBXTpic.twitter.com/DACayZ0wrN

—

NBC

Boston (@nbcboston) 11 avril 2017
The incident has sparked a national conversation on US carriers' treatment of customers in an industry comprising just a handful of competitors following years of mergers and consolidations.
The lawyer representing United passenger David Dao will also take on American Airlines: https://t.co/4i7WrRGRIkpic.twitter.com/Z532NdcKuW

— Reuters Top News (@Reuters) 24 avril 2017
Why were the seats overbooked?
United typically oversells flights by less than zero to three percent of the plane's seat capacity.
This is to account for "no-shows".
What else has United done?
In a statement, the airline says it will no longer call law enforcement to deny passengers boarding.
Nor will passengers who are already seated by required to give up their seats on overbooked flights.
United will also adopt a "no-questions asked" policy on permanently lost baggage. It will pay customers $1,500 for the value of the bag and its contents, beginning in June.